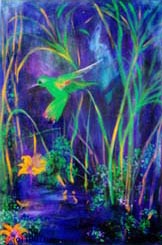 Zoe Alowan
"Art has a great deal to do with transformation. As a dancer and as a painter my work is in the theatre of possibilities. A commonplace piece of paper can become a doorway into another dimension."
Zoe Alowan was born in Ravenna, Ohio. At the age of five she began weekly art lessons which continued until 1967. Her mentor, Alma Schaefer Gardener, studied at Parson's School of Design in New York, (founded by William Merrit Chase) and was herself steeped in the style of the Hudson River Painters and the Woodstock Impressionists. Alowan received a thorough training in the fine arts with special skills in oil and watercolor and practiced plein air painting throughout her early life.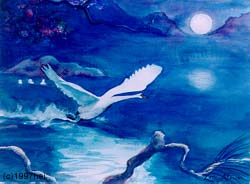 From 1969 to 1973, Zoe studied Art at Oberlin College in Ohio. She enjoyed the tutelage of renowned art historian, Ellen Johnson, and artists Paul Arnold and Toby Raetze. Following graduation, she pursued the study of watercolor with Colorado artist, Kay Lemen Simms. In 1980 Zoe moved to the east coast and painted in Woodstock, New York and New Haven,Connecticut. Though experimenting at Yale University with new styles, she continued to favor her training as an Impressionist.
In 1984, she began an in depth study with California artist, E. J. Gold. Alowan also joined forces with The Grass Valley Graphics Group, a group of thirty artists located in the foothills of the Sierra Nevada Mountains. She currently volunteers her time as Children's Art Academy Director at The Museum of Ancient and Modern art in Penn Valley, California and shares a studio with a dynamic group of women artists. Her work was included in one of the first shows of western artists to travel throughout the Soviet Block and is part of many prestigious collections held throughout the world.