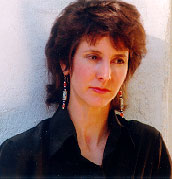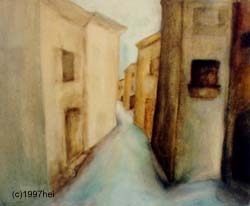 S.L. Boyd
"I combine my background as a dancer and my affinity for music with art, working as Kandinsky did to make a symphony in color and light, giving music a visual substance."
Stephanie Louise Boyd grew up on the sparkling coast of Southern California. Dance and Music were the first muses of art that captured her soul: the Cello, Modern Dance and Ballet set the stage of her latter expressions of musicality and movement through painting.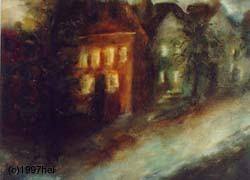 Her early dance career cut short by injury, Boyd turned to politically committed performance art. Piles of books representing mankind's achievements and grimly painted backdrops comprised the props for these performance pieces. Seated amidst these books and dressed in black unitards and handcrafted death-masks, she used instruments and drums made of ordinary and industrial objects to exemplify her impressions of the Cold War.
During this time she traveled across the U.S. working part time as a waitress or hostess. This raw exposure to some aspects of America's culture spawned a rejection and, through this rejection, an affinity with the 80's punkrock scene was developed. "I played briefly with a band as a tambourinist and back-up vocalist, but the associated violence was alienating. I became reclusive and began to paint. Appreciating the serenity I found while painting, I began to develop my skills and eventually enrolled at the University of California's Santa Cruz campus as an art major." There she further developed her skills and gained solid background in art history. Attending lectures on history, literature and philosophy, she developed a deep sense of the artist's social, political and moral responsibilities. It was at the newly built Elena Baskin studio for the Fine Arts, that she did her first landmark piece.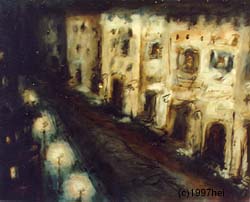 "This piece taught me much about the creative process. Fully inspired with my studies of Cubism, I tacked a 5' by 4' piece of butcher-wrap on to the textured studio wall. I was listening to Bartok at the time and began to draw to the music. After a few hours it was obvious that it was more than just a study and it was too late to do anything about the acid-based paper. The music always held sway during studio sessions and it was if I was giving the music visual form. I was witness to the creative process unfold itself before my vision.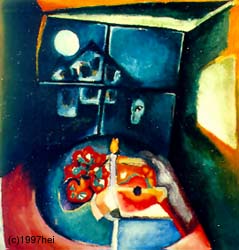 Here was my first realization that the artist is only the vehicle by which a work of art comes into existence." Selling hand painted note cards and scarves, she traveled to Europe. There she "enjoyed a visual feast that will last a life time." While in Amsterdam, she became involved in performance art once again, this time performing in the street outside the Rijksmuseum. These pieces incorporated postures derived from ancient Sumerian and Assyrian motifs, and a choral group dressed in white. Using delicately painted silk scarves, she moved in static rhythm to the chanting of poetic verse. A hundred candles lit this cold wet stage.
Upon her return to the U.S., S.L. began working with the Grass Valley Graphics Group, located in the foothills of the Sierra Nevada and became one of the founding members of the School of Reductionism. The school's precepts on art are formulated in The Manifesto of Reductionism. "Reductionism redefines the relationships between Artist and Artifact, Perceiver and Art Object. It explores new forms of perception which force the viewer to confront new modes of perception, realities which go unnoticed, ignored, forgotten or generally avoided through whatever means in our ordinary sensory selection processes.
Reductionism seeks to break through these limitations. For there are those who still believe in the power of art as a gateway to higher perceptions." Today S.L.'s images carry strong aspects of spirituality without being religious or new age like.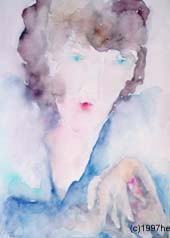 Involvement with the G.V.G.G. has had enormous impact on her artistic development: the sharing of studio time and space is reflected in her style and technique. Paintings from her earlier involvement with the G.V.G.G. include odalisques, studies in perspective, impressionism and portraiture. These portrait studies developed into "Dream Portraits." These ethereal paintings are done from a photograph, capturing the sitter's personal symbolism and mood. In 1990-91 , S.L. and other members of the G.V.G.G. were chosen to represent the U.S. in a cultural exchange called "U.S.A.-U.S.S.R." Vladimir Petrov, the Russian Cultural Representative, curated a tour which began at the Sergei Diaghilev Art center in St. Petersburg and which traveled throughout Russia and former Socialist Bloc Countries.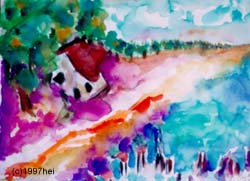 Ceramics, serigraphy, woodblock prints, sculpture and photography are new areas of artistic exploration for Boyd. She has also produced a line of fine gift items for the Los Angeles County Museum's 1996 Chagall exhibit.
Boyd has drawn inspiration from a variety of artists and schools of art at different times, during the process of her career. "When I first began to paint I was highly influenced by Picasso, but as I've matured as an artist, I've actually become offended by his ego which is all pervasive. After a certain point in his career it was all repetition." Essays on art by artists and philosophers like the Neo-Platonists, Nietzsche, Hans Hoffman and Kandinsky have also been influential. The ideals of early 20th century German group "der Blaue-Reiter" have always been inspirational. "I compose in a very precise manner by establishing the picture plane's intrinsic geometry. This is like a diagnostic procedure, bringing dissonance and discordance into harmony and balance. This process incorporates the patterns of lights and darks and choice of palette. Once the building blocks are established, their basic characteristics are defined. Then the 3-D plasticity and negative space is delineated."
The muses of Music and Dance move through S.L. Boyd's hands into her painting leaving traces of eternal visions.
Her works are in collections throughout the U.S., Canada, and Europe and she has been featured in shows from Romania to Santa Fe.

S.L. Boyd Shows & Exhibits
2005 International Association of Jazz Education Conference, Exhibit of Jazz Art, Long Beach, California
2005 Artistic Movement: A Tribute to Isadora Duncan, Center for the Arts, Grass Valley, California, Group Show
2004 Art at Placer Sierra Bank, The Art of S.L. Boyd, One-Woman Show
2004 International Association of Jazz Education Conference, Exhibit of Jazz Art, New York City
2003 International Association of Jazz Education Conference, Exhibit of Jazz Art, Toronto
2003 TootsThielemans Concert, Mill Valley Jazz! Group Show
2002 Art as Healing, Sierra Health Foundation, Sacramento, CA, Group Show
2002 Homage to Chagall, 5th Ave.Gallery, Grass Valley, CA, with E.J. Gold
2002 Flying Hare Gallery, Grass Valley, CA, Group Show
2001 Wynton Marsalis Concert, Grass Valley, CA, Jazz Art Exhibit
2001 Alpha Gallery, Jazz Art, Grass Valley, CA, Group Show
1998 Gallery Arcturus, Toronto, Canada, My Other Self
1998 Gallery Arcturus, Toronto, Canada, Group Show
1998 Mad River Gallery, San Francisco, Group Show
1997 Mad River Gallery, Los Angeles, Group Show
1997 Gallery Arcturus, Toronto, Canada, Slightly Off the Wall
1996 Abrams Gallery, New Platz, N.Y., Dreaming Women on a Journey
1996 Los Angeles County Museum of Art, Chagall Exhibit, gift store products
1993 Helen Jones Gallery, Sacramento, Strokes of Genius, G.V.G.G.
1992 Labyrinth Gallery, group show, Sacramento
1992 State Street Gallery, New Haven, CT, G.V.G.G.
1992 Ashley-Craig Gallery, Venice CA, Monumentals
1992 Beverly Plaza Hotel, L.A., Monumentals
1992 Mad River Productions, L.A., curated by Nancy Sadler
1991 Wilshire-SanVincent Plaza, Works on Paper and Multiples, A Reductionist Installation.
1991 Thunderbear Gallery, Santa Fe, N.M., Group Show
1991 Matthias Schossig Gallery, Berlin, Germany, Neue Arbeiten
1991 Sergie Diaghilev Art Center, St. Petersberg, "U.S.-U.S.S.R."
1991 The Ukraine, "U.S.-U.S.S.R." 1991 Bucharest, Romania, "U.S.-U.S.S.R."
1991 Latvia, "U.S.-U.S.S.R."
1991 Keith Fields Fine Arts, Fremont, CA., G.V.G.G.
1990 Landsbanken As, Oslo, Norway, Odalisques
1990 Thunderbear Gallery, Santa Fe, N.M., Group Show
1989 Innercity Gallery, L.A., A One Woman Show
1989 NJB's Place, Palos Verdes, CA., Stephanie Louise-Recent Works