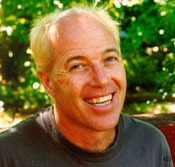 Menlo Macfarlane
Menlo Macfarlane is a member of the Grass Valley Graphics Group. "Pastels fall through the ceiling of my studio, all I do is hold the paper in the right spot to break their fall." Menlo Macfarlane, or "Mr. M" is the wizard among the artists of the Grass Valley Graphics Group. With his mulimedia work in performance and visual arts he defies any categorization.
He has been referred to as a genuine shamanic artist with a professional background in dancing (he worked with Alvin Nikolai and Merce Cunningham, among others) and a great reputation as studio percussionist and percussion teacher. He is a true multi-instrumentalist (specializing in tribal instruments from Africa and Australia), performance artist and prolific visual artist who with his pastels and his luminaires has gained an international reputation.
Macfarlane's pastels remind us in their witty and invigorating freshness of French and German Dadaist art of the twenties. Each one of his works is a complete surprise, a fresh and humorous approach to what life has to offer. Often what seems like a harmless whim reveals itself at second glance as a powerful aesthetic statement.
The Dark Hours Luminaires of Menlo Macfarlane, etchings in glass framed in a special lightbox, ("the light is trapped inside the glass and escapes out the image.") are the outcome of a collaboration between Macfarlane and E.J. Gold. They are a conversion of a series of woodblockprints of Gold into this compelling medium. As in all of Macfarlane's pieces, the mood is the operant factor.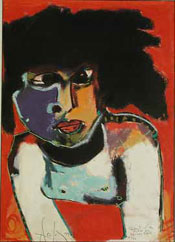 Macfarlane sees his art as doorways that can be used by artist and viewer alike to "track back to a location where the mood originated." The mood, not the mind, is the key to Macfarlane's art: "I don't try to think about my art, I don't draw from the mind. I work with my hands, and if I could, I would work with my eyes closed.
His visual art is derived from the irony that lies in the nature of the present, as the exact formulation of a frozen moment in the unobstructed flow of improvisation.
" 2) Theatrical Landscapes I'm in the process of finding habitation for the characters in my art, a place for them to dwell. In theatre, we would refer to this as set design; in cinema, we call it "shooting locations." I am searching for these locations in an exploratory manner, hunting in a labyrinth of my own imagination. Doing art, for me, whether it has been dance, theatre, music or visual arts, has always been exploratory, discovery, a form of "voyaging," a forward motion from what is known to me into what is unknown. That is why I refer to myself as an "unknown artist"—not unknown to my public but to myself. I don't ever wish to completely know myself or my art, but always to move toward the unknown.
These "theatrical landscapes" are to some extent unknown territory to me, as I look on them and even as they hang in frames on the wall. There are aspects of them that you may understand or recognize long before I do, even though I created them. I call them "theatrical landscapes" because the components that make them up, the silly little houses and strong-willed huts, the lengthy thin towers that lean into one another, the sad quiet churches that stand isolated—-they all have an architectural but also dramatic relationship to one another and to their settings, much like actors do on a stage. By placing this architectural discourse into stage-like auditoriums I can heighten its intensity and strengthen its relationship to you. By allowing them to perform for you we give them a purpose, while they wait for the characters to arrive. In some cases the characters will never arrive but don't tell them.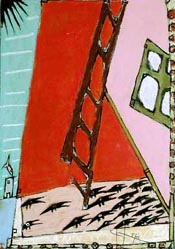 It's strange to think of an empty room or an uninhabited stage as having a life of its own. Yet anyone who's been to the theatre has felt that energy on a stage just after the curtain has been drawn and before the actors enter. From where you are standing we could say that you are on stage, a character in the drama itself or perhaps you are in the audience, watching. Sometimes I create on stage, sometimes from the audience. My arms are as long as my imagination and reach from enormous distances to place color, texture, line and form into the locations and bring them to life, just like setting up props, backdrops, false walls on a stage and then filling the space with theatrical lighting.
The inspiration for my "theatrical landscapes" comes from a variety of sources due to my background as a dancer, actor and musician. But in the visual arts, artists like Paul Klee, Piet Mondrian, E.J. Gold, Wassily Kandinsky come to mind. The etchings of Turner, set designs of Cocteau and Hitchcock, the great ballets, the boxes of the Haida, Islamic Mosques, Zen temple gardens of Japan—all these artifacts of the spirit have influenced my work.
Biographical note:
Prior to his career in the visual arts, Menlo Macfarlane spent considerable time touring through Europe, the Orient, and the U.S. as a dancer/actor/choreographer. He has worked with such notable artists as Rudolf Nureyev, Martha Graham, Merce Cunningham, and Alwin Nikolais in dance; Joseph Chaikan, Yerek Bogayvis, Andre Gregory, and Julian Beck in theatre; Nam June Paik, Philip Glass, John Cage, and Olatunji in music.
Eventually, his work in performance art led him into visual arts and he has exhibited his art around the world. Macfarlane has had a show/collaboration at the Crystal Palace in Leningrad, Russia, and exhibits in Munich (Germany), Oslo (Norway), Soho (New York City), and Los Angeles.
Menlo Macfarlane is an avant-garde artist who thrives on mixed media perhaps due to his background as a dancer, choreographer, director and actor who worked with Alvin Nicolais, the Harlem Dance Theatre and Merce Cunningham in New York.
This energetic artist is both the creator of Shadowdance and an accomplished percussionist specializing in African rhythms. It was Nicolais who taught Macfarlane a way of working, an attitude which allowed him to make a character appear when he stepped in front of the footlights. He now translates this descipline to his graphic work which draws characters and stories out of inchoate material. The narrative quality of Macfarlane's work is often whimsical and amusing, sometimes scathing in its directness.
Macfarlane's work can be found in galleries on the West Coast from Los Angeles to Vancouver; in the mid-west in Santa Fe and Denver; on the east coast from the New England states to New York and Philadelphia; in Berlin and Oslo; in Estonia, Latvia, Lithuania, Moldavia, Bucharest, Rumania, and the Dyaghilev International Art Center and Higher Art School in St. Petersburg, Russia.