A partial listing of her exhibits includes:
"The Grass Valley Graphics Group," The Goodwin Gallery, Sacramento, CA
"Monumental Landscapes," Beverly Plaza Hotel, Los Angeles

"Monumentals," Ashley Craig Gallery, Venice, CA

"The Goddess," Nevada County Arts Council Micro Gallery, Nevada City, CA

"Spatial Identities-The Art of Kelly Rivera," Wildwood Gallery, Lake Wildwood, CA

"Kelly Rivera, Recent Works," Labyrinth Gallery, Sacramento

"To The Third Power - Three Women Painters," Scott Norris Fine Arts, Santa Monica

"Strokes of Genius," Helen Jones Gallery, Sacramento

"The Breath," Celeinne Fine Arts, Penn Valley, CA

"Amor Divino," The Foundation for the Study of Objective Art, Toronto

"Kelly Rivera Recent Works," Vitae Gallery, Nevada City, CA

"Meditations," Nevada City Picture Framing, Nevada City, CA

"Glimpses of a Hidden World," Helen Jones Gallery, Sacramento, CA

"Wynton Marsalis Concert," Nevada County Arts, Grass Valley, CA

"Cool City ... Hot Jazz," Jazz Heritage Center, San Francisco, CA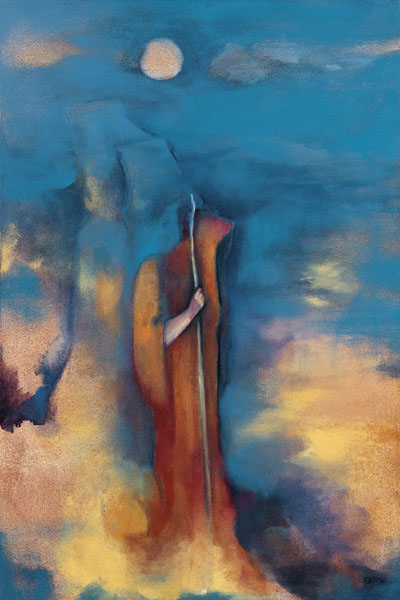 The Ascent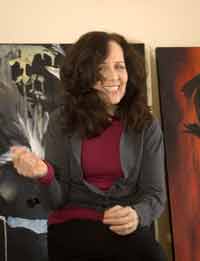 Grace Kelly Rivera
Grace Kelly Rivera was born in Ponce, Puerto Rico on the day in 1956 that the famous actress, Grace Kelly married and became a princess. She moved to the Washington, D.C. area at a very young age. She also started having intense dream and visionary experiences at a very young age. At fourteen she had an experience in which she realized from the core of her being that her life's occupation had to do with the invisible world, the world of these visionary voyages.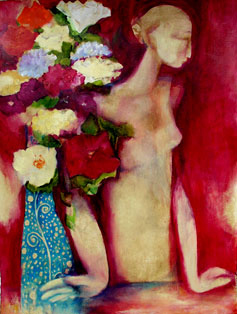 A Moment Here Now
>She remained in the Washington area long enough to take art and theatre classes at the University of Maryland before moving to New York City. As an artist she received a scholarship to the Art Students League and also took anatomy courses at the National Academy of Art. During this time she worked at the Cloisters Museum, a museum of medieval art and architecture reconstructed by the Metropolitan Museum. Here a lifelong interest in illuminated manuscripts and the subjects they illuminated was awakened.
The Cloisters gave the artist a feeling of "metier", a sense of the role of art in the spiritual realm. This feeling matured into a full blown path with the help of E.J.Gold, her most important teacher. It is through her work with him that she refined her artistic aims, rooted deep in the mystical life.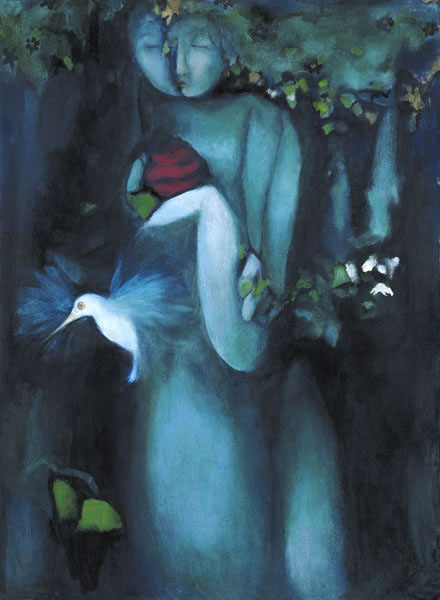 The Wedding
Kelly is a founding member of several artistic organizations which include the Grass Valley Graphics Group, The School of Reductionism, The North American Bunraku Puppet Theatre Troupe, and The Creation Story Verbatim Troupe. She volunteers for the Museum of Ancient and Modern Art, teaching classes at their Saturday Morning Children's Art program. Apart from her busy art schedule, Kelly owns and helps to run a business called "The Perfumerie," where she custom blends perfumes, providing essential oils and essential oil products to folks in the United States and Canada.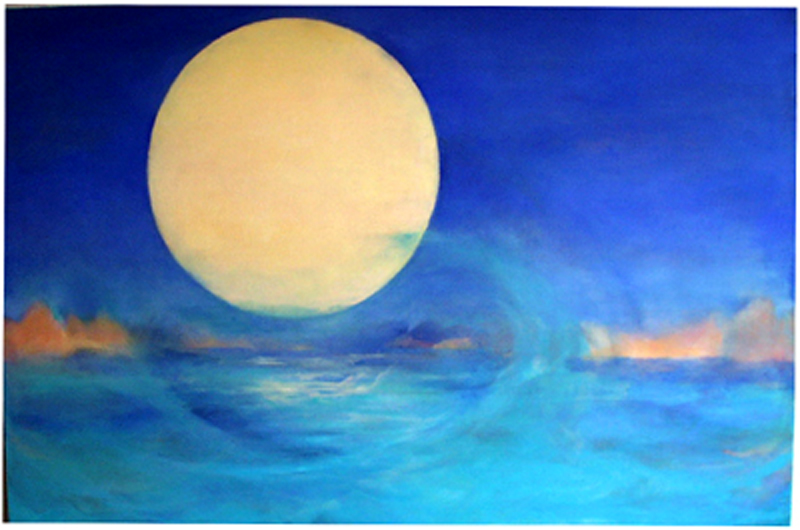 New Birth by Grace Kelly Rivera
Kelly is now realizing her dream of performing Flamenco dance, which pays tribute to her ancestry. Her passion for Flamenco lead her to find out about her roots -- raised by her step father, she never knew her natural paternal relatives and her lack of inquiry left that subject closed.
When she started to learn the dance, a little inquiry revealed that her grandfather came from Andalusia, and her grandmother played Flamenco guitar! Her passion for this music and dance form has had an influence on her painting as demonstrated by her most recent works, in which movement and mood intertwine to create a gateway into another dimensional reality.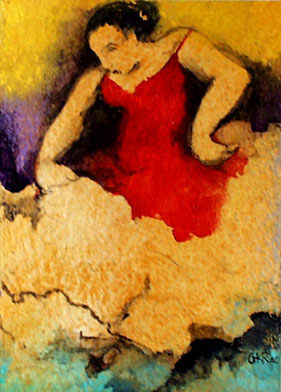 Fire and Water
ARTISTIC STATEMENT:
"My art and my spiritual life are deeply intertwined. I use art as a means of both accessing and documenting events in subtle spaces. Much of my art has the intention of creating a gateway into realms I have voyaged through visionary experiences. The process of carrying out this intention is for me as a Being, a means of learning. In its purest form, this work is not only my source of inspiration, but also a spiritual nourishment, a radiating center around which all else in my life revolves."