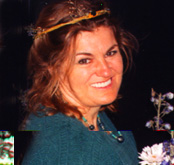 Heather Valencia
Heather Valencia was born of Cherokee descent, on March 20, 1945, in Hannibal, Missouri. She graduated from high school in 1963 with honors, as best artist and won a scholarship to the Bauhaus School of Design at the University of Kansas at Lawrence.
She earned a B.A. in Design, graduated 1967 outstanding designer. 1968, one year Masters program with top design awards in textile design.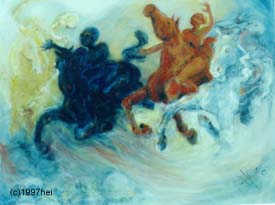 Influenced by pre-Columbian Native American Art, the fabric designs of ancient Peru, the art of the Toltecs and Mayans.
Special interests in the works of American artist Thomas Hart Benton of the Land Grant Painters. DeKooning and Pollock, Deqan Narcho, (only native American Abstract Expressionist), the New York School, E.J. Gold and the School of Reductionism.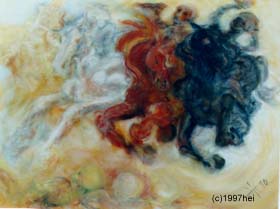 All these works have in common a view of another world, and pathways to the mysteries.
The Peruvians tied prayer knots in their weavings that were a morse code to their prayer forms. The North American artists clearly had views to higher worlds.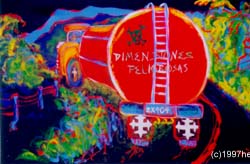 Two contemporary artists most affected and influenced Valencia. Dean Narcho, Tohono Oodam artist, member of the New York School, with whom she worked as a muralist in Tucson during her many years on the neighboring Yaqui reservation.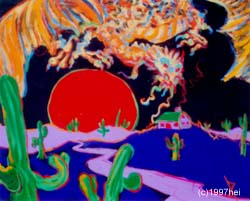 The other was E.J. Gold, whose works she encountered first hand in the John Cage show, monumentals on black in bold rich colors. She moved to Grass Valley in 1994 to study with the Reductionists.
Important Works by Valencia:
Mural of Yaqui Village at Los Lobos in South Tucson, #9th street Village Shopping Center, 1984.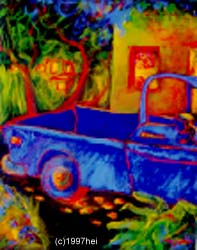 Mural of the Peoples migration from the Milky Way in collaboration with Dean Narcho, 1992 Tucson Indian Center, Tucson, Arizona.
Mural of The Flight of the Feathered Serpent wall around Chief's yard Pasqua Yaqui Village 1988.
Courthouse Show—Peyote Road series, Grass Valley, 1995. Petroglyph series, Doorways to the Other Worlds, enter for the New Age, Sedona, Arizona, 1993.
I am compelled to follow the path of the ancient mysteries of my ancestors into the worlds beyond this one. When I am on sacred grounds where the ancient ones worked, it is as though I too have been there before and painted the mysteries. Watercolor is my favorite medium.
It is from here that I draw much of my inspiration over the years. Spent twenty years in the Tucson area, eleven years living on Paquan Yaqui Reservation.