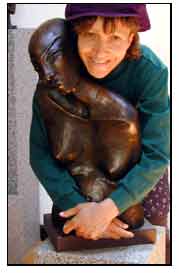 Yanesh with her sculpture, Essence of Ella
Yanesh
"Since I was a young child I have always been struck by Beauty. The Beauty in another Being, the Beauty in Nature and the Beauty in the gesture of an artistic creation."
Born and raised in Montreal, Yanesh initially entered the creative life through the portal of haute coiffure, working in high fashion salons such as Biba, La Coupe, Vidal Sassoon, and her own salon, Tiphareth.
She then became an art consultant and owner of the Troov Art Gallery in New York City.
Having moved from New York to Grass Valley, California, to study with the School of Reductionism, spearheaded by the world renowned artist E.J. Gold. she now dedicates her life to her work as an artist.
Working mainly in sculpture and ceramics, Yanesh also enjoys painting, pastel and charcoal.
Her archetypically feminine bronze and ceramic sculptures and "Black&White" paintings have been exhibited in New York City, San Francisco, Los Angeles, Toronto, Vancouver, Oslo, Barcelona, Rome, Berlin, Perth, and representing the US in the former USSR as part of the US/USSR cultural exhange tour. Her work is also a part of the Jazz Heritage Center's Cool City ... Hot Jazz exhibit.